Finding, targeting, and obtaining new customers will always be top of its priorities for any eCommerce business.
Leads. Conversions. Sales.
These are the three most important goals of every eCommerce business.
To build a thriving business, you need to take care of your biggest asset – Customers.
But what's better than acquiring a new customer? The easiest way is to retain existing customers.
By implementing proper customer retention strategies, you can increase your revenue, LTV, Average Order Value & can see ROI up to 10x with the least amount of investment.
The main goal of retention marketing is to increase Customer LTV & drive purchase frequency by getting back the existing & past customers into the purchasing cycle.
Customer retention prevents customers from defecting to another business or its action to enable customers to stay.
Many businesses pay more attention to the acquisition of new customers than to the retention of customers.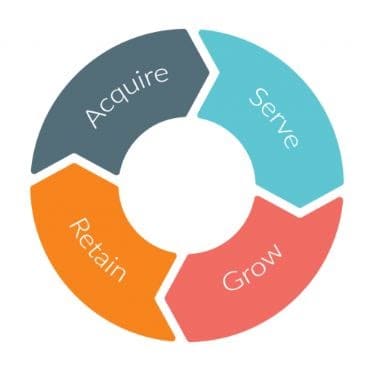 Here's a list of client retention techniques you can implement at your business –
Continuously Test email strategies –
Email marketing has, over the years, been a significant way of increasing customer conversion. Tailor the content and product recommendations in your email marketing campaigns and regularly A/B Test Subject Lines and other factors to see the most effective.
Be transparent and honest with your customers –
As an agency, we don't hold anything back from our clients and work hard to establish a relationship built on transparency. This translates to being open and upfront about payment and returns policies to any causes you support through your sales for your eCommerce brands.
Use automation to re-engage with existing and new customers –
The idea here is to use automation to re-engage your customers.
Through automation, you can manage your customer contacts, drip-feed education emails, schedule promotional emails, text messages, and event notifications.
Train & Educate your customers with info emails –
Sending educational emails is a smart method of educating your customers, and if you send out periodically, they'll trust you more, giving them good reasons to consider purchasing from you.
Train your new customers with educational emails by showing them a step-by-step process of using your product, the benefits, and behind-the-scenes videos or pictures to enhance your customer relationship.
Personalize your communications –
Personalization is the key that you need to overcome the competition.
Customizing your emails by creating Tailor-made content & Personalized Subject Lines engages your customer in each funnel stage.
Incentivize social shares & Capitalize on social proof –
Use Social Media to offer excellent incentives to customers who share about the brand/product. It's the perfect way to increase your Brand Awareness & increase your customers.
Some serve as simple retention tools, while others can entice brand ambassadors to do some Word-Of-Mouth marketing.
Be Mobile Friendly –
82% of Internet users in the United States have used a mobile device to shop online. So always optimize your site & emails for mobile users.
You can also create a mobile app for your eCommerce business.
Collect consumer feedback frequently –
One of the keys to customer retention for any business is gathering and engaging with your customer feedback.
Their feedback is all you need to scale from being a mediocre or average business to a respected brand.
Create Loyalty Programs –
A solid customer retention policy increases customer loyalty.
Customize your loyalty programs to suit your business goals.
Measure lifetime value –
Customer Lifetime Value (CLV) is a crucial key performance indicator that shows your customers' worth over time.
Once you recognize the combined profit a customer represents to your business over the months or years, you'll realize the importance of taking good care of your customers.
Surprise Gifts and Discounts –
Surprise Gift/Discount will make your customers feel like they're part of something bigger & will be inspired to leave honest feedback about your product and brand. This, in turn, will increase your customer loyalty and help a lot in the growth of your eCommerce business.
Offer time-limited promotions –
The time-sensitive promotion boosts conversion rate, and the gift card brings customers back to the website to make another purchase.
Using the principles of scarcity and urgency, you can convert prospects to customers and one-time purchasers into repeat buyers.
For your limited-time offer to be compelling, you need to combine your website popups with well-crafted email campaigns.
Understanding your audience –
The key to creating long-lasting relationships with your customers is to understand their needs. You can understand your audience by using segmentation, surveys, and polls. Remember, people love to be heard. You need to lend your ears and ask your customers to share. You will be surprised to see the engagement. The right message at the right time works wonders.
Respect their boundaries –
No one wants to be bothered and bombarded with messages that they do not wish to. Choose the right channel (email, SMS, messenger, and push notifications) and the proper frequency to connect with your audience.
The strategies listed here are just some of the approaches you can use to accelerate your eCommerce growth.
Please Note – None of these strategies is guaranteed to yield overnight results.
You'll need to be patient as you implement them.