Own media is a collection of communication channels that an entity has complete control over. This contains websites, apps, blogs, social media pages, email, SMS, forums, and other media.
Earned media is when consumers, the press, and the public share your content, speak about your products.
In other words, the references are "earned,"
It means that customers give them a free word of mouth marketing.
Paid media is when you pay to use a third-party platform, such as sponsorship and third-party advertising.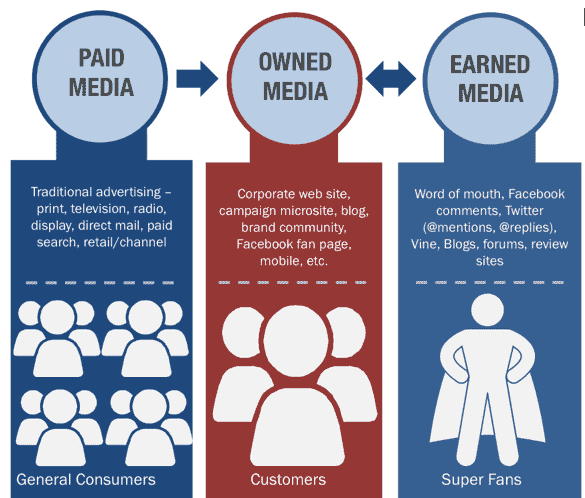 Let's dig in here and see more about owned marketing & making it part of your online marketing plan.
Owned marketing is a series of customer-focused approaches and techniques that are applied across the brand platforms.
Owned marketing follows a pull marketing approach. It means it will get the message out on the public and maximize awareness for goods or services. In other words, it allows people to get to your brand. This will help you build up your brand and voice.
Owned marketing provides several significant benefits:
Complete control
Having authority over your owned channels implies you can control the whole client experience. This means you can use your owned media advantages to developing long haul connections. In comparison, you don't have to worry about whether an ad has been seen or used.
Cost proficiency
Since you don't need to pay publishers and web companies to market for you, you can drive down Clients Acquisition Costs. When these channels are set up, your own time & resources to do it in-house or outsourcing are the key focus..
Expansive reach
Original content that ranks for long-tail keywords and targeted social media posts will broaden its reach faster than other media types.
Adaptability
Because of your own marketing platforms' diversity and versatility, you can interact in various ways to match your audience. For example, you can create unique content and use multiple types of text and media.
Life span
Unlike paid and earned ads, which may vanish after each campaign or be lost online, owned marketing does not have an expiry date. You've got your platforms as long as you like them to keep your message in place forever (e.g., your google drive, Website Back-end Servers, Social Media Posts on your page).
Properly achieving Owned Marketing involves three stages:
Collecting, Developing, and Delivering –
Collect: Collect, analyze, and use data responsibly. You have to make use of it in real-time to represent the best interests of your customers. Customer data is the base of owned marketing.
Develop: Use the full spectrum of your customer data to develop completely personalized, on-brand, tailored experiences for increasing interaction.

Deliver: Implement these customized content at the right time and place during the entire consumer life cycle — from the first contact to any subsequent engagement.
A simple-to-follow method allows brands to evolve more efficiently, more fairly, and more honestly.
Examples of owned media
The most common examples of owned media are websites. Nevertheless, forums, social media, and other network platforms are also forms of media outlets held.
Let's go over a few accessible owned media.
Email marketing –
Sending emails is a great way to educate your customers. If you send them out regularly, they will trust you more, giving them more reasons to improve your customer relationship & consider buying from you.
If the organization pays for an email marketing system or service provider, it still owns an email list and email content.
Website –
The company's website is an introduction to the digital world. Compared to other proprietary media, a website is a long-term, versatile property with total control.
While it usually takes the most time to design, a website is excellent for creating your industry position and building customer relationships.
Content Marketing –
Content marketing is one of the best ways to give your direct audience interest and place your brand on the market. Blogs, for example, are the main extensions of your brand. They allow you to share more about your business. However, if you add content regularly and distribute your posts via other paid media platforms, you will make the most of your marketing efforts.
Social Media –
While you don't own the specific sites (i.e., Facebook, Twitter, TikTok), the social media accounts are considered proprietary media. You build and manage all of the content that goes into each account.
A significant advantage of social media platforms is the ability to access a growing, targeted audience. So once you set up your account (free of charge), you're ready to share your content in just a few clicks.
Time to Set up Owned Media
The owned media takes time. Because every aspect is under your control, you're going to want to give your media platforms some thought and effort. Of course, you would be able to set up something relatively quickly using a plug-and-play system. Yet even then, you're only looking at a few days of preparing and training.
Plus, owned media doesn't just run on its own. It needs continuous attention in the form of fresh content and updates. Depending on your employees or agency( if outsourced), you might post a few original pieces every week, including writing and photos.
Owned Marketing builds confidence and uprightness for the customers. It uses similar developments (listening, evaluating, and responding) to strengthen ties between all people and facilitate the same process between brands and clients.
As a brand focused on increasing real experience through its marketing platforms that will be beginning to build business relationships. Listen to your customers and understand their needs (through their data) & help them. Delighted clients, supporters, and ambassadors are the ones that help you in the growth of your company.